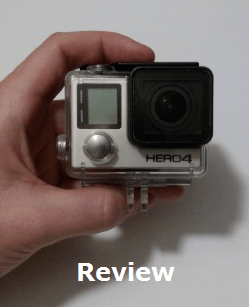 In anticipation of a Tough Mudder race I recently did, I decided to invest in a GoPro, specifically the Hero 4 Black and man, I put this thing through some extreme tests I though for sure would either somewhat damage the camera or even make it malfunction.
It wasn't even on purpose, it was just that the environment I was testing it in was so extreme, that I felt that even this thing, regardless of it's reputation would be damaged.
Well it wasn't. It's still perfectly fine, as is the case it was in and it's ready to be used anytime on my next adventure. So I wanted to share in this review what happened with this camera, the place I took it to and the things it went through.
Now in terms of understanding it's functions, it's stats, abilities, ect…, my technological knowledge is limited. I am not a professional photographer who can document specific stats of a camera, it's lens, it's abilities, ect…
All I really know is that a higher megapixel = good and overall, all I wanted to get out of the GoPro was a memorable experience of a fun activity I did and it gave me that and more.
And in terms of experience, this was the first time I had ever used a GoPro.
Alright, so let's point out a few things about the Gopro Hero 4 Black: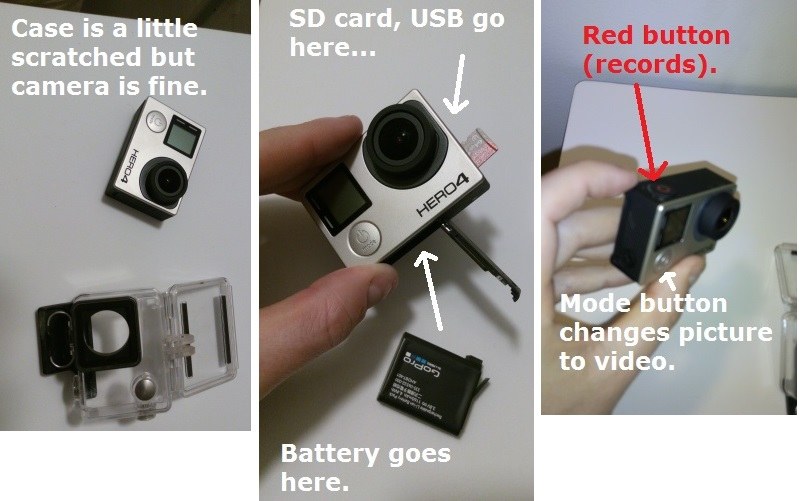 The price of this thing is about $140 (We are talking about the Hero 4 Black specifically).

It comes in a plastic, water proof case. This case in spite of being extremely good at protecting the Gopro itself is surprisingly good at letting sounds pass through. I honestly, though my voice would be muffled, but it wasn't, you can clearly hear everything when you export videos to a computer.
On the camera itself, there are 2 "doors". Door 1 is on the side, which when removed opens the access to put in your SD card (By the way, the best SD card for Gopros based on what best buy employees gave me is this one, a Sandisk extreme, and the limit for a Gopro is 64GB).
Door 2 is at the bottom and opens the area to put the battery in.
Now in terms of buttons, there are 3:
A record button at the top, a mode button on the front of the camera which switches the mode from video, to pictures to multi shot option and finally a settings button on the side which I didn't figure out. To me having a high megapixel number and and high quality video was enough.
I also know there is wifi and bluetooth access. My friend who helped me set it up showed how you can install an app from the Gopro site, connect it to the camera can handle the recording from your phone. It's basically like having a digital screen, but on another device. Since the Hero 4 Black doesn't have it, this option makes it possible.

So what was so extreme that I put this thing through?
Well if you didn't know, Tough Mudder is a dirty, long and muddy obstacle race where a lot of people actually like to take their Gopros on. I actually did see a number of people like me wearing them on their heads.
But when it comes to extreme, if you really put yourself through the entire course, the camera and the case are going to take a beating. You're going to:
Fall in water.

Crash into mud.

Smash into walls.

Possibly drop the camera several times like I did.

It WILL be underwater.

It will be extremely dirty.

And in my case, it was so dirty that when I had to switch batteries, a lot of mud got onto the actual camera (I did have to open it up from the case to switch it).
This is certainly a lot more than you see people put this thing through on YouTube videos so you can bet that on the day I tested it, I tested it to the extreme. I do have a YouTube channel which showcases my mud run videos, all of which were recorded with a GoPro Hero 4 Black. Here is one example:
I've still got a few areas where there's dirt left over on the camera, but the quality has not been affected. There's really no damage…
It's working just fine, it's ready to be used again and there's not a scratch on it. This thing can take a beating and still be perfectly fine which is shocking to me considering how much I went through with it. I was on the Tough Mudder course for at least 5 hours straight.
Pictures we took on the Gopro 4: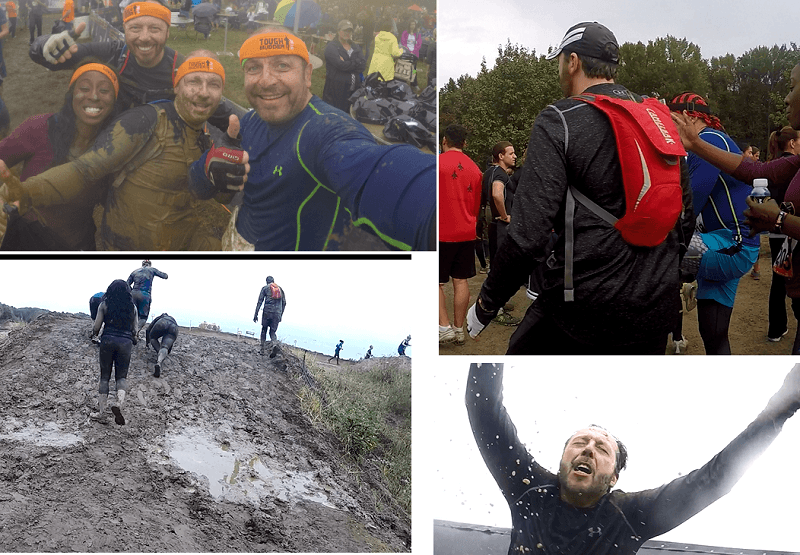 The picture quality is pretty amazing. I tried to add the images to showcase things like the details in the mud, the drop of water, the color distinction and in one photo, it looked cloudy because the outer case was covered in dirt and we were cleaning it throughout the race, but because we were also very dirty, we could never get it to be completely clean, yet despite that, the picture quality is still amazing. Here's some more:
I took a special photo of a park walk I did recently just to break the muddy picture vibe! But otherwise, as you can see just about every detail is caught. Even though it's a 12 megapixel camera, I honestly think it shoots better than my smartphone. 
Tips to prevent you from losing this expensive toy!
After realizing just how durable this thing is, I'm sure it can handle any extreme environment, what worries me more is losing it. In the case of mud runs, these things happen often and I did have that problem.
What I learned is that if you're going to enter some sort of environment where you're going to be underwater or you're not sure if the strap that you have will hold tight, be safe and give the camera to someone to film you from a distance.
In my example, I gave it to a few other team mates while I had to pass through obstacles where I was hanging above water. If it fell in there, I would not be able to find it, so to be safe, I just gave it to someone I trust.
Are you saying the straps people use are bad?
No they are actually quite comfortable and keep the camera on tight. Running with these is also fine, not noticeable and I would get them if you can, but sometimes you jump very high or you roll on the ground and do things that can affect the tightness of the strap.
If you expect this to happen, always keep an eye on your Gopro at all times and like I said, just be safe and give it to someone to record you. 
Pros: 
I was able to take some very high quality videos and pictures on this thing.
Extremely durable camera and in the case, it can take pretty much any harsh condition/environment. 
Fantastic tool to record adventures and especially mud runs.
Very easy button system. Press to change the mode, then record it or take pictures basically, that's all it does.
Easy to activate it while you are moving. 
Easy to export the recorded files to your computer (plug it in to the USB and hit the mode button to export).
Very easy to clean after use (the case mainly, the camera is too).
Additional accessories such as chest/head strap are easy to put on and hold the camera pretty firmly.
Because you can maintain mobility with this thing and film it at the same time. 
This thing weight less than a pound. 
Cons:
There maybe a risk of losing it in certain conditions. Use the safety tips I recommended to prevent that. 
Overall position on the Gopro Hero 4 Black:
I absolutely love this camera despite only really using it twice, but with all that it went through, what would surely destroy other cameras and/or damage them, the durability on this thing showed me why Gopro has such a good reputation and why people who do serious stuff outdoors prefer it.
This review doesn't do the Gopro Hero 4 Black justice:
I know I still have so much to learn to use this thing for and settings and features I'll probably never figure out, but let me tell you, for any outdoor activity where you expect electronics to get damaged or at least be at risk of it like in my mud run, you're going to need something like this that is proven to take the challenge.
For something so small, it can withstand so much damage and deliver amazing memories. This thing is coming with me on any adventure I do. I am very happy with my Hero 4 Black and recommend it to anyone.
I cannot wait to test this thing out on the next mud run I do (The Spartan Race!).
Update: Well, the GoPro series is up to the Hero 7 Black now…
I briefly used it and have to say that for me, the Hero 4 Black is better because the battery life is LONGER. You will find the image quality isn't that big and if you liked the videos/photos I put above, then you'll be happy with a cheaper 4 version than the 7.