For a race like the Spartan Beast to exist, there have to be sadists who design this thing and masochists such as myself who want to go through it.
Let that be a little preview of what I'm about to tell you about this event. And yes, I did go through it. Never again I dare say!
Last Saturday, April 29th, I did the second hardest version of this event, the Beast (here are the other versions of it) and I will share with you what transpired. Now this event is 12+ miles long and in my case, it ended up being close to or exactly 14 miles. 
This would be my 6th mud run I've ever done and without a doubt, the hardest one yet. Of the previous 5 events I've done, 2 of them were actually Spartan Race events, just not as long. One was the Sprint (5K) which ended miserably as it was cancelled due to torrential rain, thus I couldn't get myself the nice red medal or cool t-shirt and the other was the Super, which I did finish in a manner of 5 hours and change. 
These 2 events, plus the other 3 I did helped give me a TON of experience to prepare myself for the Beast. And I really did prepare a lot. 
For example, here is my training regiment that I used to prep for it. 
Was my preparation enough? Post event analysis and lessons:
Let me explain it this way:
1) Uphill climbing.
The main thing I feared about the Spartan Beast was the overwhelming amount of up hill climbing that I would have to endure.
Frankly, if I may be bold, this is really what makes up a majority of the hardships and length of the event and honestly, it's one of the things I don't like about this event because it lacks creativity. Something like Tough Mudder does a better job at this.
Anyway, with every mud run I've done, the ones which involved up hill climbing ended up being so tough, that even though I endured them, that afterwards, my legs and thighs in particular were shot and in excruciating pain for days.
I would not be able to literally walk up and down the stairs. Nothing short of rest and rolling my legs on a foam roller helped heal me so going through that experience again was something I was not looking forward to…
So in anticipation of the Beast, I really worked on my uphill climbing game, but living in the city, I didn't exactly have many places to do this, so I improvised and rode a bicycle any chance I could, as well as lifted it up to my 7th floor apartment whenever I wasn't too tired. I also would walk up to my floor as often as I could.
Let me tell you guys…
These exercise SAVED my legs. Not only were they better prepped this time around, but I felt much more comfortable climbing up those annoying cliffs. Now even though my legs still hurt the days after, at least now I can actually walk and the healing time is much faster.
So was it right to do what I did? Absolutely. And I do recommend you do something like this if not the exact same thing. 
2) Lifting.
Some of the obstacles in the race involve lifting heavy things. 4 in particular are:
The Atlas Carry. 

The Sandbag carry.

Carrying very heavy pieces of wood (log carry).

And finally…the one carry obstacle I hate above all else…the damn bucket full of gravel. Whoever though of this obstacle should really think of something more original because not only does this challenge suck, it also sucks in the sense that it's just very excruciating to go through.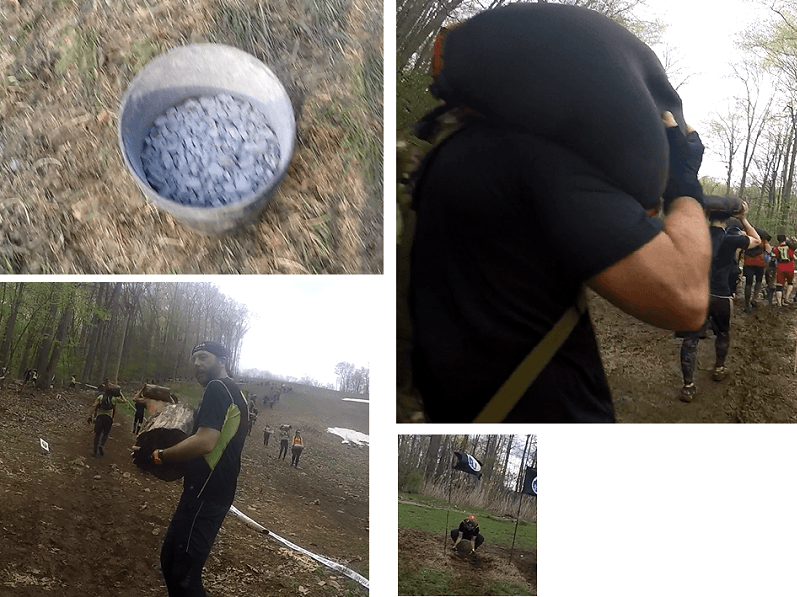 But anyway, these 4 main challenges were also things that worried me, but I'll tell you what…carrying that bike up the floors over and over really made me BLAZE through these 4 challenges. 
I was actually surprised at how quickly and dare I say, nearly effortlessly I was going past the other competitors and finishing these challenges rather quickly. 
So again, reenacting that challenge by carrying something heavy up and down, getting used to it REALLY helped. 
3) Crazy grip strength required…
Many of the challenges on this event absolutely require that you have an excellent grip.
For the wall scaling, for the rope climb, monkey bars (which there were 2 of in this event), you will need to really work on this.
Now in my training regiment I linked above, I had definitely been working on this as well and I was amazed at how strong my grip was, come race day. 
Unfortunately though the creativity of some of the obstacles and slipperiness of the walls was too much for just my grip alone and I ended up not completing some of them.
However, I can attest that whatever I recommended you do to prepare your grip for this race WORKS.
Here are the tips and you will have insane grip, trust me.
4) The best clothing to wear for the Spartan Race ever…
Oh boy, I nailed this. Now unlike the other mud runs I have done, this was the first where we were advised to bring tick spray.
Because this particular event was held in Mount Vernon, NJ, it would be highly risky to attend it wearing very little, and not having any tick spray.
In case you didn't know, ticks can be HIGHLY dangerous in transmitting a near deadly disease known as lyme disease, one which I have first hand experience with. Trust me, it is not worth showing of your incredible body and risking getting bitten by one of these things.
Instead, everything I had recommended you wear didn't just help protect me against the ticks, but it also helped protect me from injuries and kept my muscles warm, warm enough to continue progressing through the course.
5 things in particular helped:
A) Rash guards. Shirts and pants. Here is a list of the 10 things I ALWAYS put on for mud runs. Consider this list a near perfect insurance from injuries, infections and other bad stuff that can happen.
B) Hat. Great for protecting me from the sun, although in our case, we were lucky to experience a cool, cloudy day.
C) Shoes. Without a doubt, make SURE you have the right shoes for this. Get these, they absolutely OWNED this race. I still can't believe how good they are, and this was the second time I used them. They are still good to go for my next one by the way!
D) Hydration pack. Oh wow, if I could tell you how many people I saw wear these on the race…you wouldn't believe me. I would estimate 8 or even 9 out of every 10 competitors wore these. Even the official Spartan Race newsletter advised we get these. Here is the one I used. 
E) Get yourself a GoPro. It's great for documenting your experience and learning your lessons, plus enjoying the footage after the event! I actually own 2 of them, the Hero 4 Black and Hero 5 Black. My Hero 5 Black was being fixed at the time, so I took my 4 and just for the record, for this event, you will need to have 3 batteries, one for the camera and an extra 2 just in case.
What about food? Did you bring any?
I had team members bring the following things:
Energy gels and a few energy bars. These were absolute gold on the race and helped us re-energize. Furthermore, the water station at the halfway point was also giving these out in droves so we took as many as we could carry (a hydration pack helped keep it all stored). 
Were there new obstacles on the Beast?
Yes quite a few! They actually made a few modifications to existing ones as well. I have a list of the new ones here.
But also just know the main part of the race is the uphill climbing, a bunch of walls, those 4 lifting challenges and for specifics, see this obstacle list, generally 80% of them on that list are always going to be on this event.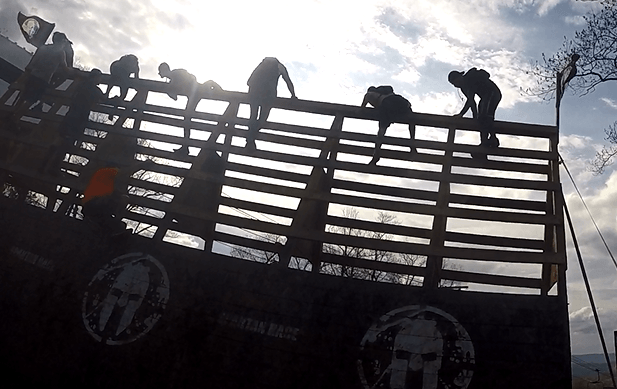 Where I totally owned this race:
The uphill climbs, the 4 main lifting stations, were surprisingly a lot easier than any of the previous times I did it. This was actually about 85% of the whole race if you add their lengths together.
There was a memorization obstacle where based on the last 2 digits of your "bib" number, you were given a name and number to remember, only to have to say it later on when asked by the staff. Getting it wrong would require you do 30 burpees, the central punishment of this race. I still remember mine by heart: Alpha-368-2700, YES!
The spear throw was also easily completed. I actually threw it twice this time. The first time, it hit the target and slipped off because I threw it too lightly, but the second time, I got it straight through. For people who are worried they'll struggled with this, here is my best tip for completing the spear throw.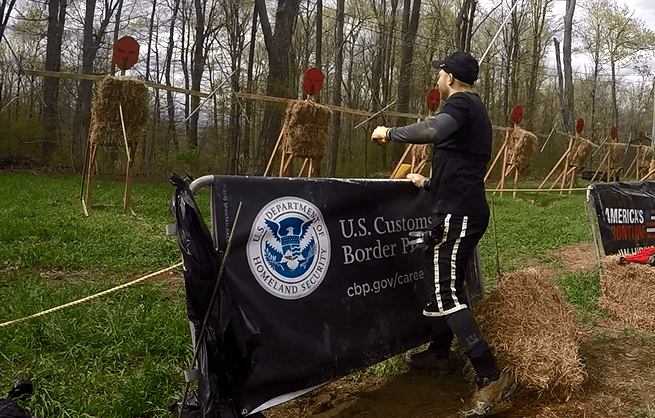 Where I could have done better…
Man some of those new obstacles really surprised me. There was an advanced monkey bar climb I couldn't even get 10% through. I will have to work on my monkey bar climbing more and really try to mix it up.
The rope climb was ridiculous this year. Last time I did this event, the rope climb was in water and the rope itself was very wet, yet that time, I almost made it to the top, this time around, there was no water, the rope was on dry land and we stood on these soft pads in case we fell, yet this time around it was MUCH harder. In fact, NOBODY on my team managed to complete this obstacle. I will definitely be trying to climb ropes more often from now on…
Some of the walls that I managed to scale relevantly quickly weren't as simple this time…the 7 and 9 foot walls were the hardest. They were very slippery to land on and grab onto the top, which I always advised doing through these tips, yet here, I lost my confidence. I will have to re-learn how to scale walls. 
And these 3 areas, despite making up LESS than 20% of the event were still enough to have me be disappointed a little bit.
5 essential tips for completing the beast:
1) Wear that good clothing. 
2) Stretch after EACH up hill climb. This is another MAJOR factor that helped prolong my legs resilience and continue the race. Basically after each climb, my legs would get stiff and taking a minute to stretch them out really reignited them and at times, even well into the event, I felt like I was flying, something which feels heavenly on something as difficult as the Spartan Race, so PLEASE stretch, often if you have to. 
3) Wear those good shoes.
4) If you feel like an obstacle is giving you too much trouble and/or you feel as though you are about to pull a muscle, STOP and relax. Worst case, restart the obstacle again. They don't penalize you for trying. Also to add to this, do NOT do the beast if you're a first time mud runner or aren't in great shape. At worst, do the Sprint. 
5) Do my recommend training exercises above, either the classic ones or the specific ones I did for this one. They helped me complete nearly the entire race without a hitch and we are talking 14 miles people…
What's next? Think this one isn't enough for you? 2 even crazier races to consider:
Well I admit, I'm a crazy guy to do this and I cursed this race several times throughout doing it. However, as the days go past this event, I feel as though I want to go further and try to hit that next level. And if you're like me, there are 2 known events in the mud run world tougher than this:
1) The Ultra Beast. Ladies and gentlemen, imagine everything I just told you about my 14 mile "adventure", but multiply it by 2 and you have yourself the Ultra Beast. It is "just" 2 laps of the one I ran.
We actually had a bunch of these "Ultras" running past us in the race. They wore a light green sleeve to indicate that there were ultras and by the rules of this event, you have to give them passage. 
Generally the length of the Ultra Beast varies but it's 26 miles up and up.
2) The World's Toughest Mudder. Ever heard of Tough Mudder? Well imagine that basic race, which is typically 10+ miles, but done lap after lap for a period of 24 hours.
And there you go, 2 challenges that are on the next level above the beast.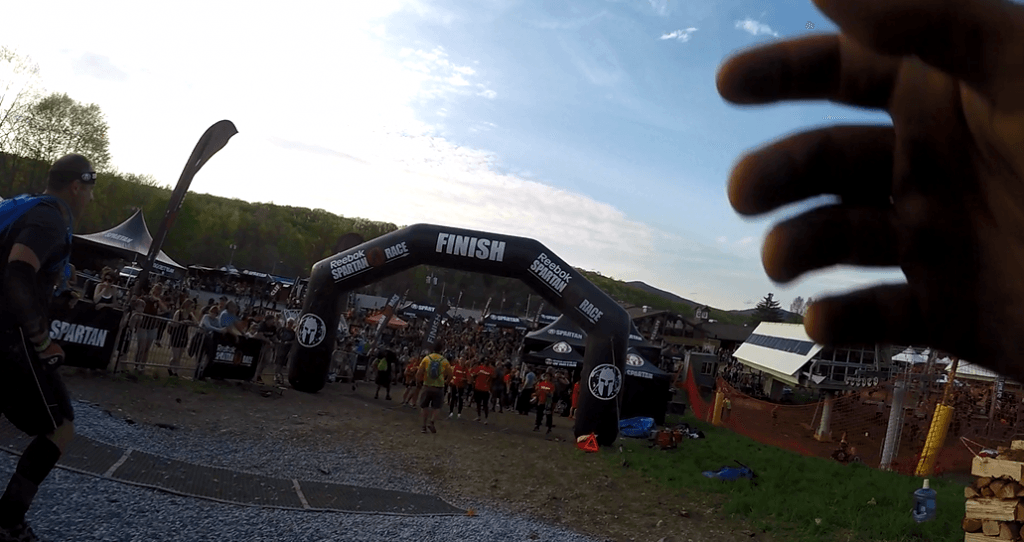 Overall opinion of the race:
While doing it, I hated it. After I finished it, I kind of wanted to go further with it. Like I said, the T-Shirts and medals really look and feel nice so that's an incentive, plus the experience is pretty cool too.
I honestly enjoy Tough Mudder more (why) than this event because it's more action based, where as this one is just a masochist's dream come true.
If you've done any of these events, man would I love to hear what you think!