Being that the Spartan Race and Tough Mudder are considered among the most difficult races in the obstacle racing topic, there is often debate between which of them is harder and more fun.
Fortunately, now that I have completed both, I can help you figure this out if you're considering these events.
Here's my resume of the OCR's I've done:
2 Tough Mudders, each 10-12 miles long.

3 Spartan Races (Spring, Super & Beast).

Numerous other OCR's like MudmanX and Survival Challenge.
And by the way, if you've done these too or are planning to, please share your questions/experiences with them below! I'd love to know 🙂
Let's compare which event is harder!
To begin, I'd like to note that there's different levels of each event so what I've done is balance out which each levels from one course are similar in terms of difficulty and length in the other and I will explain which are more difficult:

There are 4 main levels to the Spartan Race and also 4 in Tough Mudder (there's a 5th one, but it's for kids and I won't count it).
First is the 5k. It is comparable to the Half event which is 5 miles long. I've done the 5k but not the 5 mile one (I did the full event) and I personally believe that the 5k is more difficult despite being a bit shorter.
Second is the Super, which is 8 miles long. I'm going to compare this to the FULL Tough Mudder event which is 10-12 miles. Again, I feel that the first event is more difficult as I've completed these and felt a lot more tired and sore from the Spartan Race.
Third is the BEAST (

which I also did), which is 12 miles. I'm going to compare that to the same full e

vent in the other course because both can be 12 miles long. Well if the 8 mile level was more difficult than it's also likely the 12 mile event is too.
Then we have the Ultra beast which is 26 miles long. We will compare that to a 24 hour Tough Mudder event. In this case, I will say that Tough Mudder is more difficult simply because the length of the event drags on longer, although if you cross the same 26 miles in both courses, you'll probably feel more tired from the Spartan Race. The only reason the other course gets the win here is because of the time length and the fact that overall in 24 hours, you can probably cross a lot more than 26 miles.

What are the biggest similarities and differences between both events?
First we'll see how both courses are similar:
Both events obviously have a lot of dirt…
Obstacle wise, there are a few of them I noticed which were similar. Both have a log carrying challenge.
Both also have similar wall climbing areas, meaning walls you have to go over.
Both have similar dirt mounds with deep/shallow water in between them.
Both have water stations each mile you cross.
And surprisingly that's about it. I though there would be more until I actually did the events and saw there were many differences:
The Spartan Race is more focused on individual completion of each obstacle, you can have people cheer you on, but they can't really help you. Tough Mudder has at least half of it's obstacles focus on teamwork where doing it yourself is almost impossible.
In my experience doing both events, I found there is much more focus on strength, endurance and stamina in the Spartan Race vs Tough Mudder. For example, with that log carrying challenge which is in both events, in the Spartan Race, it involved us carrying it individually for a longer amount of time and up and down a cliff. In the other one, you could opt to do it with a team and for the length it took to finish that challenge, we didn't carry it for as long but had a few walls we had to get the log over. So based on that, I feel you need to have way more strength and endurance to handle the obstacles on the first event.
In terms of uniqueness of the obstacles, I found Tough Mudder to be way more fun and creative. When I did the other event, I didn't really enjoy going through the obstacles and found myself going into the next one with a feeling of desperation and wanting to get it over with. On Tough Mudder on the other hand, some obstacles gave me an adrenaline rush and involved myself and the team I was with to use our heads to get through the challenges. In that event, I actually found myself enjoying the obstacles more and looking forward to the next ones.
With prices to try them out, for me Tough Mudder was more expensive.
Prize wise, you get more from the Spartan Race. I received a free shirt, a medal and some energy drinks/bars. In the other event, I only really got a free shirt, a head band and deodorant (hah).
Another

big difference

in comparing the events:
The location of each event you do plays a big role in how difficult it'll be. Both events can be held in locations where the terrain is either more or less flat and places where it's on mountains or hills where basically you have to climb.
If you do any event on a flat area like a stadium or where my last event was held which was in a dirt bike park, it'll likely be flat so you'll get less tired from running.
However, if you do one or both events in places where there's mountains (many events are held on ski resorts and that means uphill hiking), the level and difficulty increases by a lot so when I did the comparisons of both events, I actually looked at it from if both were held in flat areas and if they would held in steep mountainous areas.
I still believe should both events would be held on the same terrain, the Spartan would still be more difficult.
Whichever you decide to do, make sure you have these 3 things:
1) Physical endurance, in the cardio and strength department, especially for the Spartan Race.
2) Don't go alone, especially if you're doing Tough Mudder since it is more team oriented. You can get help and WILL get encouragement from other fellow contenders there, but it pales in comparison to having close friends next to you rooting you on and everyone help one another during the obstacles. There's going to be comedy, there's going to be bonding, difficulties and overall, there will be great memories if you go with friends. 
3) Wear good clothing, and most importantly, GREAT, reliable sneaker/shoes: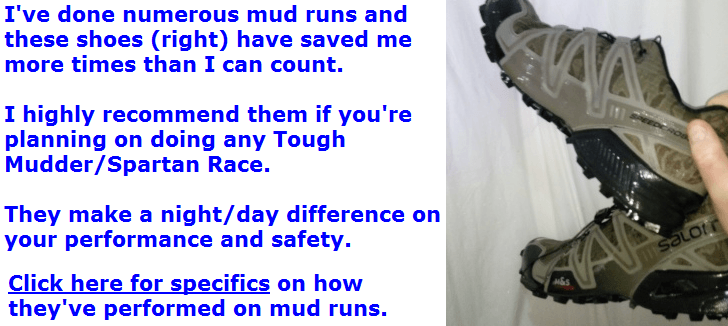 Which event suits you more? 
It depends entirely on your personality and physical level. 
If you are the type of person who really enjoys individual challenges and doesn't like getting help like I do, then the Spartan Race is going to test you.
However, there are also very difficult challenges in the other course that even I had trouble doing because as I said before, there is more technical ability needed to complete the challenges vs brute strength and will power.
If you enjoy something with a team element involved, like to try out fun obstacles that don't just challenge strength, but your brain and can give you a little bit of an adrenaline rush, then you should definitely try this one instead.
Ideally, you should do both events if you enjoy the whole element of outdoor challenges and obstacles so you can decide which event you like better.
Which event do I prefer?
Neither, both are fun! Like I said before, the Spartan Race challenged me way more, but Tough Mudder was the one where I had a lot more fun, even though it challenged me less. So it depends on how I feel.
I'll be updating this comparison in the future when I do more of each race, so I can literally compare the obstacles side by side and even do video comparisons as well. But no matter what new updates come, I'm still going to have the same opinion of both of them 🙂
Update: My specific reviews of Tough Mudder and the Spartan Race…
So I did 3 Spartans, but finished 2 of them due to the third getting cancelled:
Here is my review of the Spartan Super I completed.
Here is my review of the Spartan Beast I also finished.
And as for Tough Mudder…
Here is the first 10-12 mile one I completed.
And in 2017, I also successfully another one in the same location, but the first one was more fun.