I've successfully completed the spear throwing obstacle in the Spartan Race twice and would like to share the technique I used to do it.
You may not be able to become the perfect spear thrower overnight, but these tips will definitely make your technique much better and I encourage that you practice the actual throw (which I'll show you) so you can become better at it.
Update: Finally have some great pictures up to show how to throw the Spear for the Spartan Race.
Before I explain the technique I used to succeed on this obstacle in the Spartan Race, I want to give a very basic tip that has nothing to do with the actual throw, but rather the mindset when you encounter it.
1) Be patient when you do the Spear obstacle on the day of the race:
The spear throwing obstacle itself isn't going to be your first challenge but by the time you get to it (if you do), you're going to be tired and probably irritated. You're going to also be very impatient when you're waiting in line to try it and when you're up, you're also going to try and finish it quickly.
Most people fail this challenge in the Spartan Race not just because they lack technique, but also because of impatience. When it's your turn to try it, walk up, pick it up, get comfortable holding the spear and take your time before you throw it. The people behind you can wait and rest and you can do it too if you're waiting for your turn!
The art of using this weapon is being able to concentrate and relax. It doesn't take a lot of energy to use it and hit the target and it only weights about 4 pounds.
Note: The distance to hit the target is about 15-20 feet. 
2) Here's my technique for throwing the spear…
Do you remember making paper airplanes and flying them? Well that's actually how I throw a spear, except you pull your hand back a little bit more and use more energy to LAUNCH the weapon (the pictures will show this).
My first spear challenge happened on my second Spartan Race and I did it very successfully because I automatically assumed it was like launching a paper airplane. Other people were just tossing it at their target and that's not how you're supposed to wield this weapon.
If you don't know how to use paper airplanes or use this idea for the weapon, then here's another:
Your body's position when throwing the weapon must angled diagonally with your power arm behind.

I am a lefty, so when I did this challenge, my left foot was behind my right and I held the weapon with my left hand as well.

My feet were positioned about 2 feet away from each other. Make sure you have a good distance between your feet.

Now you're ready to launch the weapon.
The power and precision of the throw comes from:
The whipping motion of the hand and aiming the tip of the spear at the target.

Pivoting your body and back foot when you're ready to toss it. Think of the same paper airplane or when you toss a baseball.
3 steps to setting up the perfect spear throw for the Spartan Race:
1) The hard part is getting your hand used to letting go of the weapon at the right moment when you do launch it. Before you begin, position yourself like this:

Basically it should be right above you, in your power hand.
2) However if you launch it from that position (90 degrees), it's going to miss. That's what the black dashes are.
Instead you have to pull the angle of the spear back a little bit more so when you launch it, you will get more distance to set up the power and it will also get more distance in the throw:

Ok now a REAL life view of it: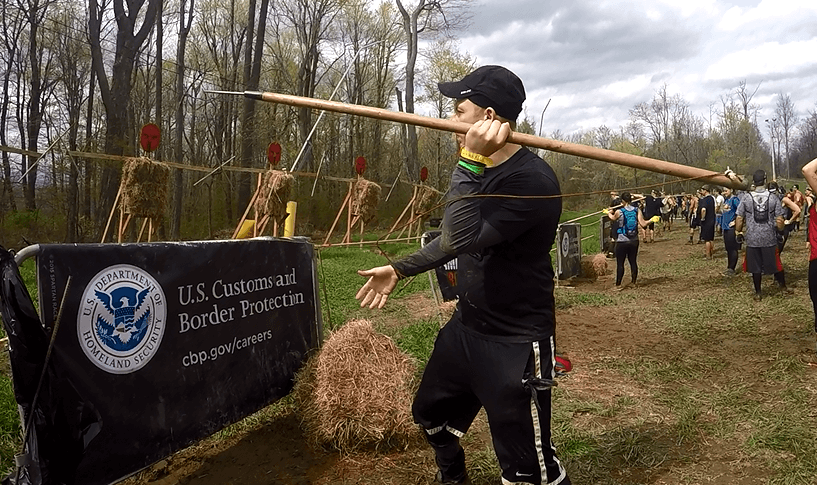 Notice how just like in the illustration image, I am pointing the spear at an angle.
However, this is still not the position where you're going to launch it yet! If you do it from there, it's going to still miss and land hitting the back (the stick end). This is actually the same angle most people do this challenge from and fail.
You're not going to throw it from there, but you are going to set up from there.
3) Now THIS is the position where you launch it. After you started at 90 degrees, angled it back a little bit to set up power, you are going to WHIP it back close to the starting point and let it go:
Your hand has to let go of the weapon right before it gets to 90 degrees otherwise, it'll miss.
The hard part is letting go after you set up the launch like this. Many people go beyond the 90 degree angle before they let go and the spear ends up hitting the dirt before it hits the target.
Letting it go too early (under 90 degrees) makes it hit the dirt and land on the other end.

Your hand and the tip of the spear are the guide. Your hand sets up the tip and the tip then carries the rest of the weapon to the target.
Practice the motion before the race:
This tutorial is not going to be enough for you to become the perfect tosser.

No YouTube video on tossing them is going to do it.
You have to go out and practice it before race day. You don't want to end up at this challenge and try to remember everything you read and saw. The best way to do it is to practice it so your body remembers how it feels.
Find a backyard, a park, any area where you have some space and practice the throw.
Practice it with a stick and use one tip of it as though it's the actual tool. If it hits your target right at that point and in a straight line into the target, you made a good hit. If you didn't or the angle was pointed too far in different directions (not straight), re-practice it. 
Remember to be patient with each turn you take doing it and make sure to remember how the whipping motion feels: When you set it up, when you pull it back and whip it before launching it.
Also make sure to remember to let go at the right angle. Try to look at when your hand lets go and for this you need to do it slowly.
If you have problems hitting your target, start from a shorter distance to the target, and do the techniques slower.
Always remember, using this tool is like throwing a baseball or airplane. You can practice with those before you try using it! 
Finally, here's how it should look:
Again, practice that motion, get the feel of this before you do it on the race. It's honestly not that difficult, you just really have to imagine throwing a paper airplane. You can honestly practice with THAT if you don't have space to practice with an actual spear or stick. Read more on the obstacles of the Spartan Race.
Also the pictures used to show my technique were taken when I ran the Spartan Beast.