Of the most essential things to wear for a mud run, shoes are probably the most important. But which ones are the best?
Well after having gone through 7 mud runs, the first 4 of which were with regular sneakers (and that was a big mistake), I switched to the Salomon Speedcross 3 and ran my next 3 races with these. It truly changed everything.
Here is what mine look like (a Salomon Speedcross 4 is also available and it is just as good):
While on these events though, I did see a lot of other people wearing these same ones, but also others. Generally speaking, the best kind of mud running shoes are…
Trail running shoes (TRS).
Generally anything you would wear that is designed for hiking or going through off road areas will work pretty well.
Do not put on actual hiking books, put on trail sneakers because they are designed to be water proof, to be resistant to dirt and other things you'll encounter in nature and they are also very durable. But they are also designed to help you keep moving, no matter what environment you cross.
The first 2 mud runs I ran were MudManX and the Survival Race. I wore basketball sneakers for both those races thinking any kind of foot wear would suffice, but I was wrong and by participating in those events with them, I felt uncomfortable and very dirty.
They didn't really hurt my feet or cause damage but their design and fabric made them more easily absorbent when I ran through dirt and water, which collected so as I continued with the race, they became heavier and heavier, and much less comfortable to move in.
And in the end, I ended up having to throw them away because there was no way they could be cleaned up enough to be worn again or used for another race, otherwise I'd get blisters and all the dirt that filled up inside them was impossible to get out. 
For my next 2 races (The Spartan Sprint and the Spartan Super), I also wore sneakers, but they were half trail and half casual. They were sketchers sneakers and I actually felt much more comfortable going through the events in them and was able to use them for 2 races straight, but because of the casual aspect they had, they also absorbed a lot of things that made them smelly and because they also weren't designed to be used in those events, they also got torn up.
One of the other things was when I ran through the slippery areas with dirt, I almost twisted my ankle a few times, especially when going downhill. Obviously, those sneakers aren't designed for that, but I am fortunate not to have broken my feet which could have happened many times…
My uncle however always wore the very basic kinds of trail running shoes and I was always surprised how much more loose and comfortable he looked when he ran those races with me. Turns out, it wasn't just that he was physically prepared, it was also because he wore the right things.
And on that note, here is the best clothing to wear is for a mud run.
But anyway, once the switch was made to good mud running shoes (the Salomons), it had a tremendously positive impact on my performance in mud runs!
Are water shoes good for these races?
There's a lot of moist and watery areas on these races and I have seen people try to go through them wearing regular water shoes. It's not a good idea.
Going through any of those events in water shoes feels like you're basically moving around barefoot but have something uncomfortable attached to you. They also get torn up very easily, can slip of your foot, especially on these races and there's a big chance you get blisters too (usually putting on the right socks prevents this, but with water shoes, you don't wear socks so everything they collect dries up and hurts your feet).
Water shoes generally are ONLY good for actual walking in water and they can be great for slippery areas such as wet rocks, but you don't have a lot of that on these courses. In fact, I think the people who make these events try not to include them since they are so easy to slip on (unless there's rain) so there's no point in putting them on.
I've only seen a few areas with wet rocks, and if you see them on the course, try to avoid them. If it's raining and you have to cross them, do it very slowly because it can get very dangerous.
So just wear trail running shoes?
Basically. Since these types are the only good ones to wear, you can't really go wrong with them.
You can get them for about $50-$200 and they will last you for a few races if you're careful, but most of them are designed for regular trails meaning they are made to be used for regular jogs through the woods and a little hiking.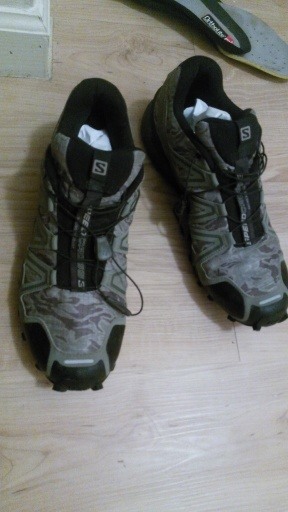 Their design is such that they will keep the dirt and a little rain out and their durability will keep them useful to you, but on mud runs, you're not just going to have that too, but you're also going to be knee and head deep in dirt, fully submerging yourself into water, back out in the regular environment and then back into the extreme, many times.
All of that really puts the ultimate test on regular trail shoes which is why they will probably last maybe 1 or 2 races and if you really clean them up good, maybe more. But you need something next level of trail running to have the best comfort and long term use for these kinds of races…
But my top pick for the best mud running shoes are still  Salomons:
Remember I mentioned wearing the Salomon Speedcross 3 for 3 mud runs? Well even after doing so, I still own the SAME pair (they are on the right).
You can see the details of how these shoes handled on the 4 mud runs I did but overall, I was amazed at how much easier every single event became thanks to them, simply because they offered me more control and safety over the environments I was running in.
I do believe out of the wide variety of other GOOD mud run shoes I saw on the races I did, the Solomon was the most common.